Brand new "Pumpkin Farm" print and stickers.
Celebrate the greatest season of all – autumn – with this new full color "Pumpkin Farm" 12×18 print as well as a new "Happy Fall" sticker pack.
Pumpkin Farm is a tribute to the playfulness and creativity of the fall season, especially on Halloween.
Its crisp air bites our noses and cheeks. The crunchy colorful leaves all around us on the ground. Smiling, bumpy pumpkins fill the walkways. We layer in cotton and wool, hooded sweatshirts, topped with hats or wigs and jackets. We display our silly scariness and spooky friendliness; a playful creativity of the past, present, and future. The strong winds blow, temperatures drop and gloomy skies make themselves known. And we forgive it all over again, capturing a photo of every moment before our fingers and toes turn numb.
This image was created one sketch per day for 31 days, as a part of the #inktober art challenge, resulting in all 31 #inktober prompts in one illustration! See the whole journey, prompt by prompt, on Instagram.
Each of these words is depicted in the artwork: Crystal, Suit, Vessel, Knot, Raven, Spirit, Fan, Watch, Pressure, Pick, Sour, Stuck, Roof, Tick, Helmet, Compass, Collide, Moon, Loop, Sprout, Fuzzy, Open, Leak, Extinct, Splat, Connect, Spark, Crispy, Patch, Slither, Risk
Giclée-printed on 12×18, the artwork is 10×15. Printed on museum-quality, acid-free matte paper.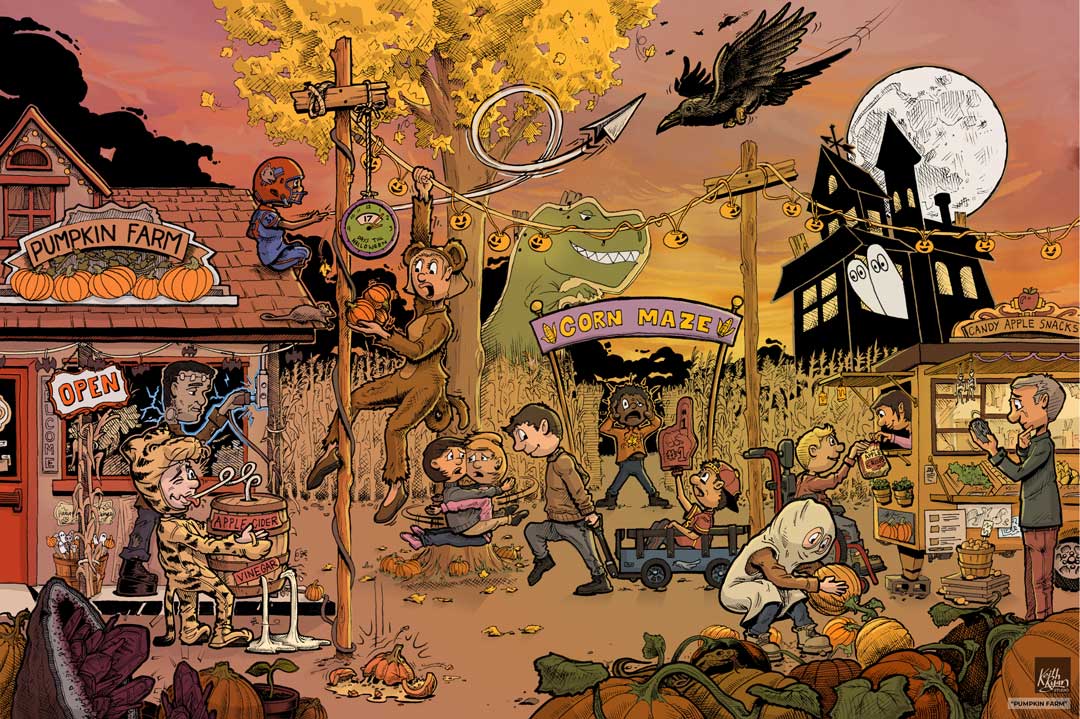 Celebrate fall and rekindle childhood memories with this festive 12×18 "Pumpkin Farm" art print.